As more people discover the advantages of kettlebell workouts, the Rockwall areas only certified kettlebell training facility has experienced massive growth. Now in their own building at 207 County Line Road, Britts Training Systems has three certified instructors, has doubled the size of its facility and is adding classes at an impressive rate. Pauls reputation in the field has achieved national status, and he was recently featured on the website of Dragon Door, the Russian Kettlebell Certification authority in the United States. The following is an excerpt of his interview:
* * * * * *
Dragon Door:
How did you first find kettlebells?
Paul Britt: I discovered them in 2005, when I was working as a police officer. I had always been into powerlifting and bodybuilding—and was always at the gym. My wife wanted me to find something that didn't take me away from the house and kids for up to 2 hours. I had read about kettlebells in a few Police articles so I decided to buy one. I started working out with it and found that there really was something to it. Next I bought a complete men's starter set and never looked back. I actually quit working out at the gym after about a month and a half of training with kettlebells. Id always trained hard at the gym from about age 12 -13, but after I found kettlebells in my thirties, I never looked back. In fact I have not trained in a standard gym in 8 years.
Dragon Door: What were some of the biggest changes you noticed when you started training with kettlebells?
Paul Britt: I didnt notice the changes at first, but while I was teaching martial arts and combatives at the time, the people I was training kept telling me to stop grabbing them so hard! My grip strength was improving and I was getting faster since I was moving better and felt better. I didnt hurt all the time either. Before kettlebell training it used to hurt to get out of bed on some days.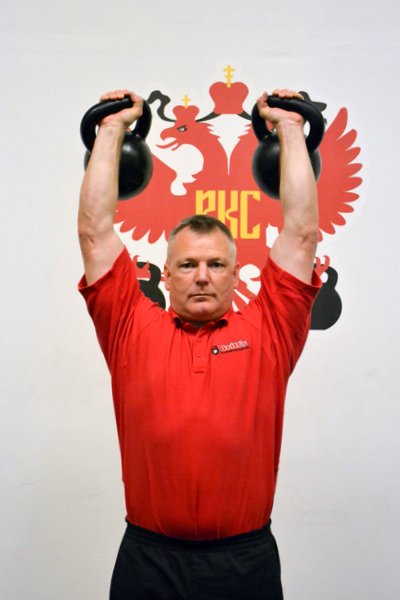 Dragon Door:
When did you decide to open a gym?
Paul Britt: Thats a funny story. I originally went to the the Dragon Door certification workshop for myself. At the time, I was the only person in North Texas who was playing with kettlebells and I thought I could do it. And I have always wanted to train with the best. When I was a cop I always made sure to train with the top instructors, so off I went! There was never any thought of teaching others, it was just for my personal development.
I wanted to learn more at the workshop since I had a bunch of kettlebells. Afterward, a lot of people had started asking how and who I was training with—and where was the gym. I was known locally as a martial arts and combatives instructor, but now also as a strength training instructor. People started showing up at my house after I was posted as an RKC Instructor on Dragon Door. We had a nice little group every Saturday morning. My wife finally said, "I'm tired and want to sleep in on Saturdays. You need find a place to teach." So, about four years ago I found an inexpensive place to open the gym. We're still in the same warehouse but have expanded into the unit next door.
Dragon Door: And since then you've hosted many Dragon Door Workshops!
Paul Britt: Yes, weve had several. It works out well because now I dont have to travel as much—Im a homebody! While I really loved going to St. Paul for workshops up there, it's really special to host a workshop in your own community where you know the area and have connections. And I grew up overseas—I've traveled enough!
Dragon Door: What most motivates you to keep participating with the workshops?
Paul Britt: Every time I attend or assist at a workshop, I get better at something—if not everything! The learning doesn't stop, and the evolution of the system doesn't stop. Every time the teaching progressions improve and the drills keep getting better. The more we practice, and practice teaching the skills and drills the better we get!
Dragon Door: What do you think is the biggest challenge when introducing someone to kettlebell training?
Paul Britt: Its waking up their glutes! I think that really is the hardest thing because our society has most people sitting for 8-16 hours a day in a hunched over position. Once you get the hip hinge, everything else comes pretty quickly. I think getting someone new to understand what the hip hinge is what we need to do. Teaching them to do that is the first step of helping them wake up their bodies.
Dragon Door: Who do you usually train at your gym? Is there a particular demographic that trains with you, or that you prefer to work with?
Paul Britt: Its funny, I have trained a lot of kids in the past, but right now the median age in the gym is 52. teaching a lot of older folks, in fact—other than one of the instructors who works for me—all the men and women at my 9:15AM class today were over 60 years old. And theyre all doing one-arm swings with the 14kg kettlebell. My oldest client was 93, and our youngest at the gym has been 9.
I originally left law enforcement to run a program teaching kids how to play sports in daycares from age 18 months to 6 years old. So, while I have a really good rapport with kids, I really like to train adults because you can have a conversation. At our gym, we've worked with an Olympic gold medalist, and a movie star who worked with us when she was in the area. People just kind of find us!
Dragon Door: What are some of the biggest benefits your older clients are experiencing from training with you?
Paul Britt: I am a certified functional movement instructor, so we build mobility and stability along with strength. My philosophy is that they should also walk out the door with something left. They're all finding out that theyre a lot stronger without being in pain. When she first started training with me, one lady was surprised at how much stronger she had already become when she was able to take a 25lb bag of dog food in one hand and just throw it into a shopping cart at Costco! Shes 56!
Dragon Door: What a great example of useable strength that doesnt just stay in the gym, but comes out into everyday life!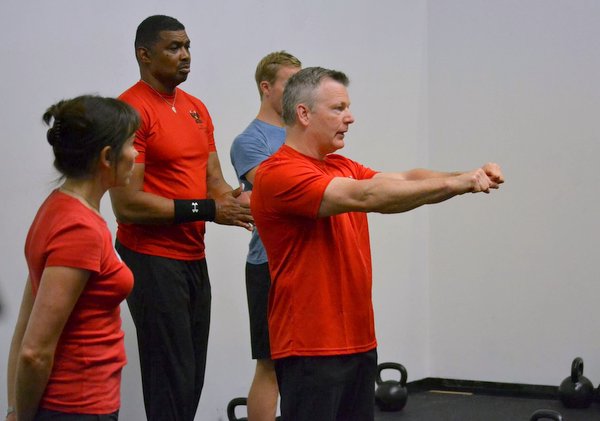 Paul Britt:
Having been a police officer for 18 years, after I started with kettlebells I definitely had an advantage if I got into a scuffle on the street. As opposed to being a big bag of disjointed muscle like I was when I used to train like a meathead in a regular gym working the show muscles.
Dragon Door: Any other specific reasons or recommendations why police officers should consider kettlebell training?
Paul Britt: Yes. The swing and the get-up will fix a lot of issues. When I was a cop, we worked 10-hour shifts and were often sitting in the cars for 8 hours a shift. If we werent sitting in the car, then we were writing reports. So just like everybody else who has to sit while on the job, swings and get ups fix a lot of things. Kettlebell swings give you a lot of go, a lot of strength, and pin-point power when you have to grapple. The get-up just keeps you moving better and giving you that grinding, low gear power.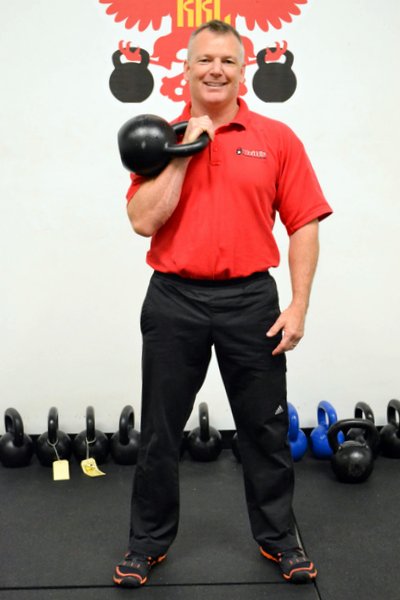 Dragon Door:
What move do you enjoy teaching the most?
Paul Britt: The swing, and I hate to keep going back to it but for 100% of the population it's 99% better than anything else out there. We like to do some kettlebell juggling for fun around here on a Saturday class. It's nothing fancy, but still fun and really challenging. It's great to hear people laugh when we drop kettlebells everywhere outside. We have about 4 acres to play with, and sometimes we leave big holes!
Dragon Door:
Earlier you mentioned your older clients doing one-arm kettlebell swings, are there any other moves you like to use with your older clients especially?
Paul Britt: If I could only do one thing with my older clients, it would be deadlifts. If they cant swing, they can deadlift. If they need to, we have them squat to a chair or box—we use the sturdy water meter boxes from home improvement stores, they're inexpensive and a good height for most people to sit then stand back up. The other thing we like to use with older people is the get-up. My goal for them is to not be like the lady in the famous commercial who can't get back up from the ground. So, at least we teach everyone the half get-up.
Weve had some clients lose as much as 100lbs. One went from 275lbs, lost about 100lbs of fat, added 25lbs of muscle then actually went to an HKC workshop! We've had some really massive weight losses at our gym, and I think in many cases it's been due to restoring mobility and stability.
Clients who have regained their strength and mobility send us the most referrals, which is part of the reason we have a lot of older people at the gym. They hear that we can help people move better, walk better, and hopefully be in less pain. I also work with a couple of local chiropractors, one of which was a chiropractor for the 1996 Olympic team. I work with some of his clients, and now he is an instructor as of this year!
Dragon Door: Just goes to prove that kettlebells are great at any age.
Paul Britt: While I'll be 47 this November, sometimes it's more the mileage than age, and I'm trying to mitigate the mileage with my training. My wife noticed the difference when I started really getting into training with kettlebells. My 14 year old son trains with me at times. He does get ups, pullups, pushups and deadlifts. He is at that age that he just comes in to play when he wants. We have one 12 year old young lady who deadlifts the Beast (100 pounds) and has improved her soccer game from the movement.
I love kettlebells and have been with Dragon Door since 2005—I dont plan to go anywhere else. The learning and teaching is better, it's not a beat down and it just gets better every time.
---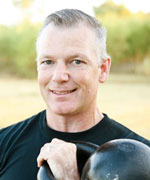 Paul Britt, RKC Team Leader, CK-FMS, Primal Move Instructor owns Britt's Training Systems in Rockwall Texas. He can be contacted for individual and group training by brittstrainingsystems.com, info@brittstrainingsystems or on Facebook: Britts Training Systems. For more information about kettlebells and kettlebell training go to the Dragon Door website.